Built to suit your lifestyle
Flexibly combine & configure modules
Design your ideal refrigerator space with BESPOKE – use it as a standalone or if you want more space, you can combine it with one or more BESPOKE units. Choose between a 1-Door Fridge, Bottom Mount Freezer or even a 4-Door Flex and combine them in any permutations as you wish. Seamlessly integrate multiple refrigeration modules so you can enjoy the flexibility of tailoring your fridge to suit your changing lifestyle and storage needs.
Design your own fridge your own way
Customisable Design
Make your kitchen more you. With custom coloured fridge panels and a varied choice of finishes*, it's easy to express yourself and your taste with a BESPOKE refrigerator. No longer compromise on style and see your BESPOKE fridge seamlessly blend in with your kitchen. From Glam White to Satin Sky Blue, you can now choose the perfect fridge door colour for you**. Satin – Soft & Silky glass, Glam – Glossy glass.
Flexible storage for more fresh food
Freezer/Fridge Convertible
Enjoy the ultimate in flexible storage. Easily convert your freezer into a fridge on demand and optimise how you use all of the space. So there's always plenty of room to keep even more of the fresh food that you particularly enjoy or need to store in different seasons or for special occasions.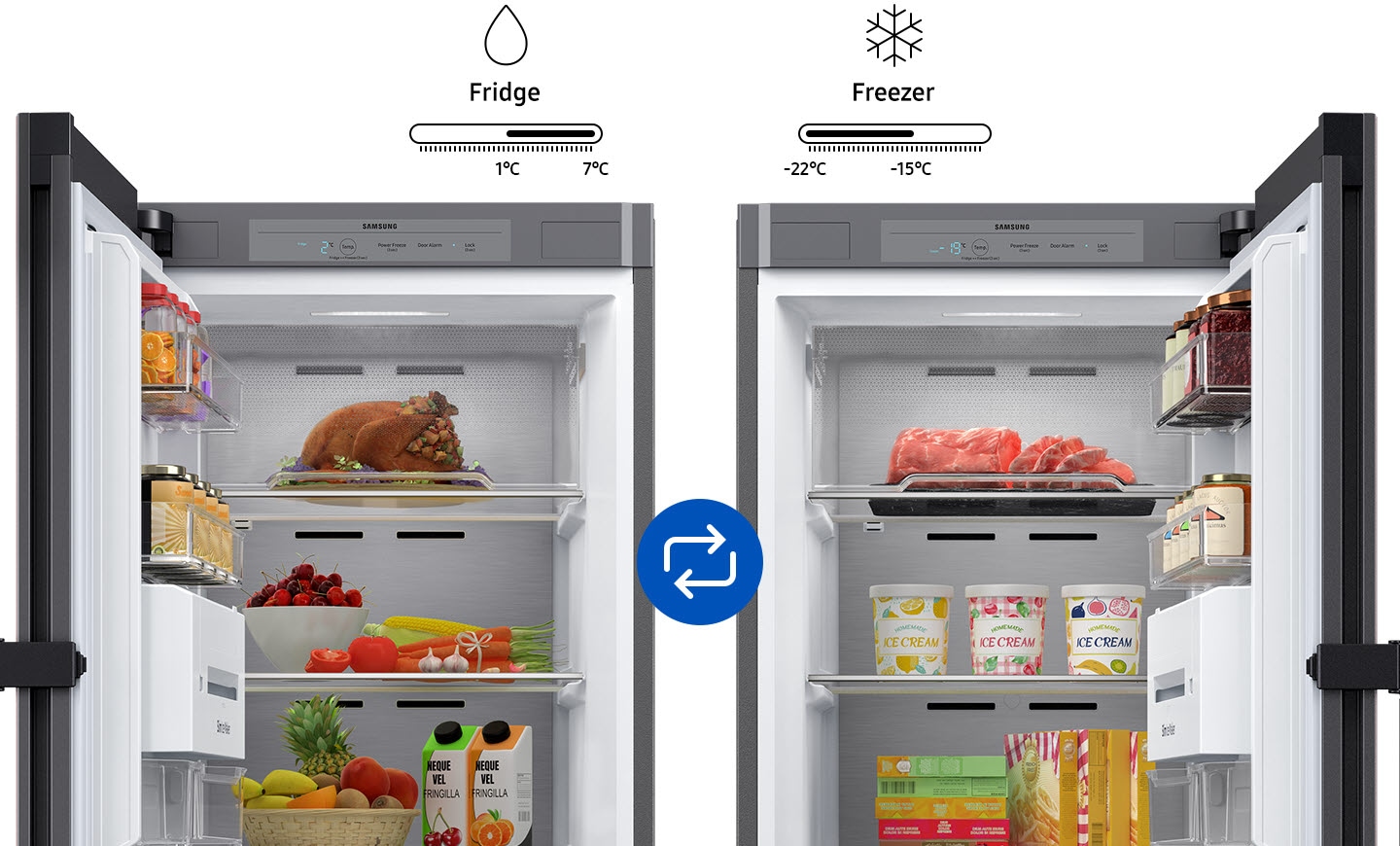 Fits perfectly into your kitchen
Customised Fit
Make sure that your refrigerator fits perfectly into your kitchen. Its standard depth will fully align with your cabinetry. This refrigerator can be installed as either a counter-depth style or a kitchen-fit style by aligning your kitchen cabinet.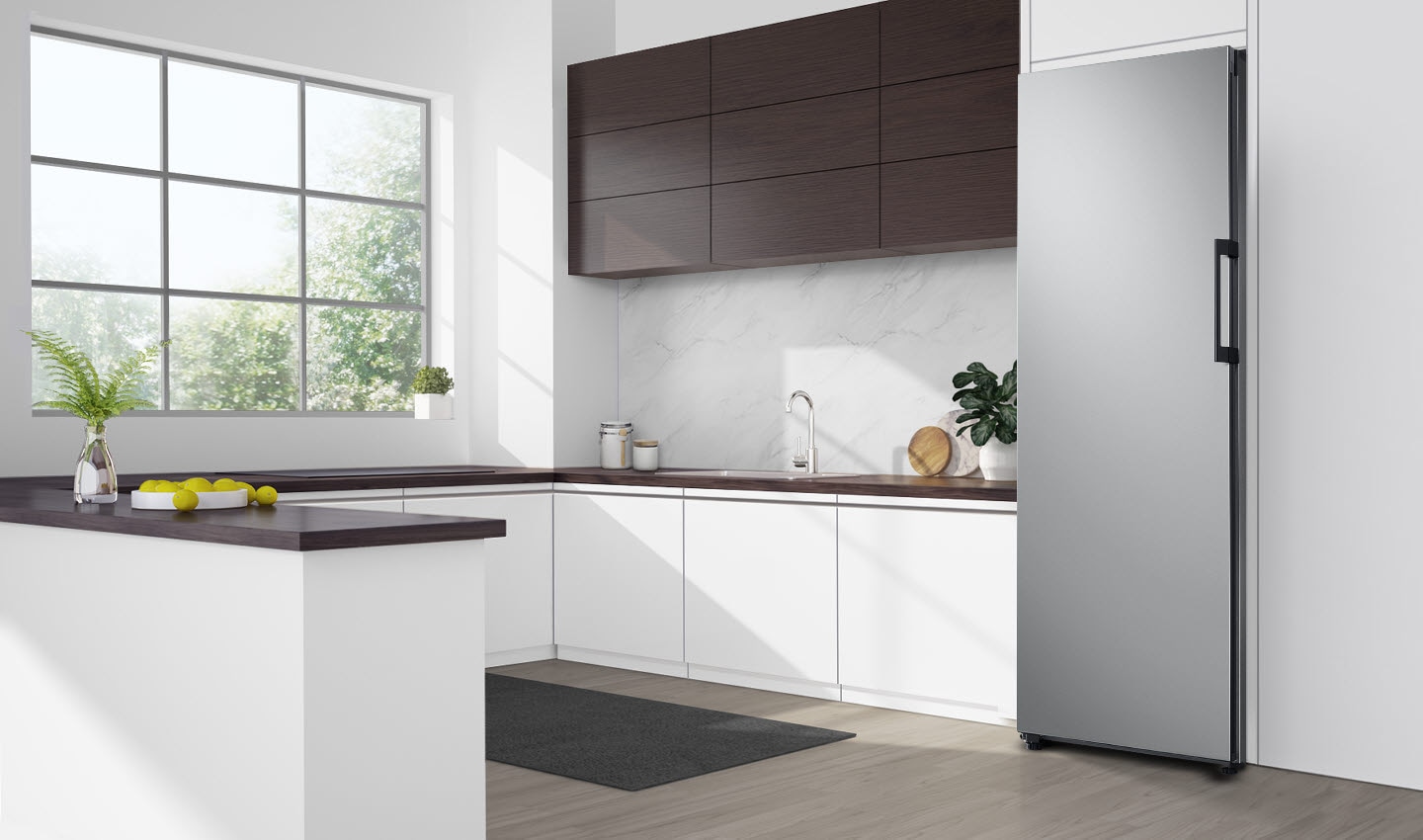 Modern and sleek to suit your style
Seamless and flat design
In need of a modern fridge? Add a touch of premium elegance that upgrades your kitchen. The minimalist flat streamlined doors will blend harmoniously with any modern kitchen interior and fit seamlessly with your existing furniture. Plus, it can be perfectly combined with other BESPOKE modules to create the appearance of one appliance.
Neatly store & easily find more food
Large Capacity
Store and neatly organise much more food. A large capacity means there's plenty of room in the freezer to store your weekly grocery shopping. Plus, it's much easier to keep everything efficiently organised. So you can quickly put in, find and take out what you want, whenever you want.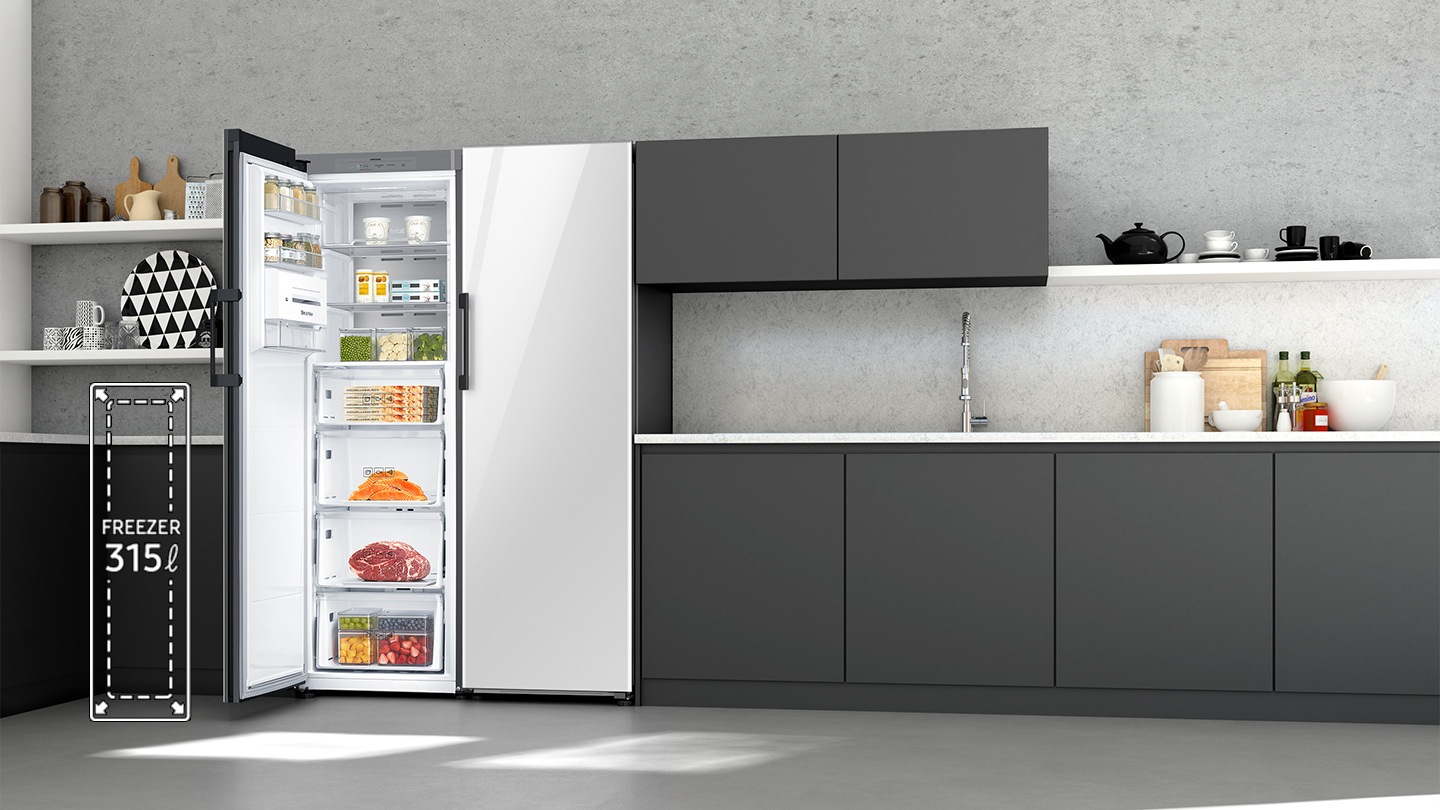 No More Frost & Ice Build-Up
No Frost Technology
Avoid wasting time defrosting the refrigerator. The No Frost Technology enhances the circulation of air to maintain a constant temperature in every corner of the refrigerator, which prevents the build-up of frost and ice. It also reaches the target temperature much faster*, increases the cooling system's durability, and avoids wasting power on defrosting.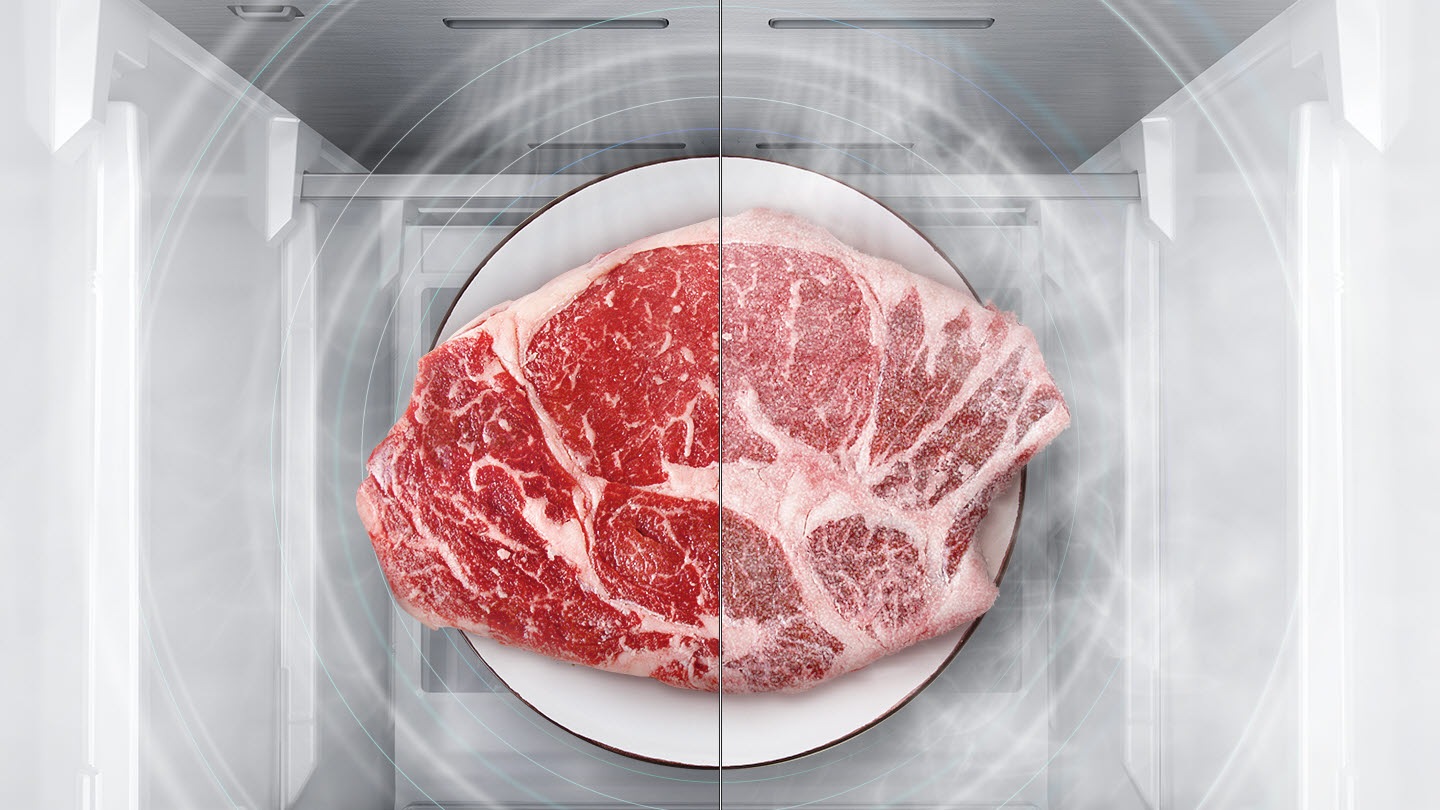 * Based on a comparison of the Samsung No frost refrigerator RB31FERNCWW and Frost refrigerator RL39THCTS. Individual results may vary depending on environmental factors and individual use.
Preserves food freshness for longer
All-Around Cooling
Make sure that all your food is properly cooled. All-Around Cooling cools each compartment evenly from corner to corner. It continually checks the temperature and circulates cool air through strategically placed vents. So food is kept at the optimum temperature and stays fresher for longer.
Metal Cooling feature is applied to specific models.
Opens in whichever direction you want
Personal preference or a necessity for your kitchen layout, the Reversible Door lets you choose to open your fridge from the right-hand side or the left. Now you'll never have to worry about swinging the door into other cupboards or appliances.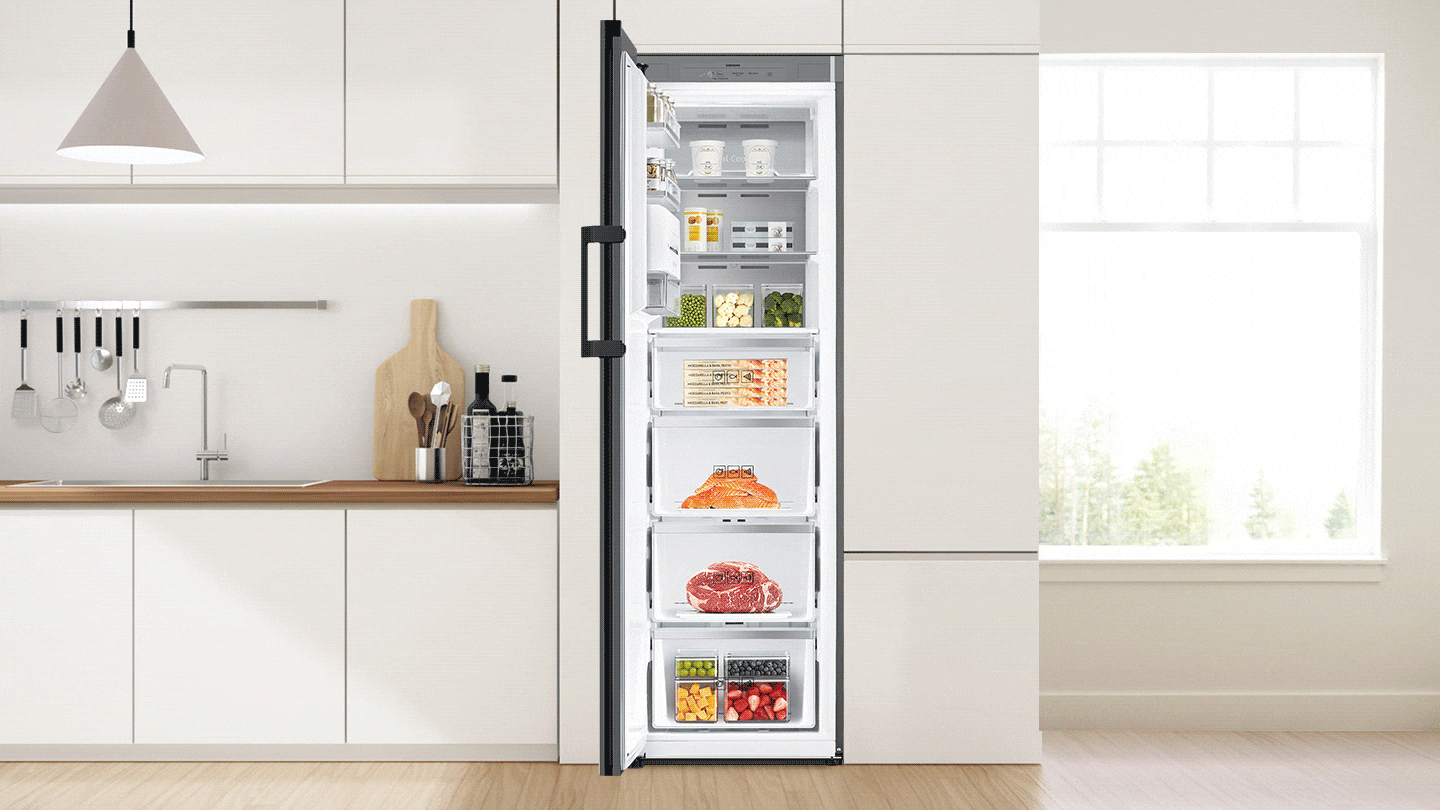 Any requirement to change the direction of door should be made prior to delivery. Additional charges may apply for subsequent door reversal request.
Locks in cold and seals in freshness
Metal Cooling
Keep food fresh, even if you often open and close the freezer door. A Metal Cooling plate in the rear wall helps to maintain consistent temperature throughout the refrigerator. It retains the cold and prevents the loss of cool air when the door is open. Plus, it quickly restores any heat loss when it's shut.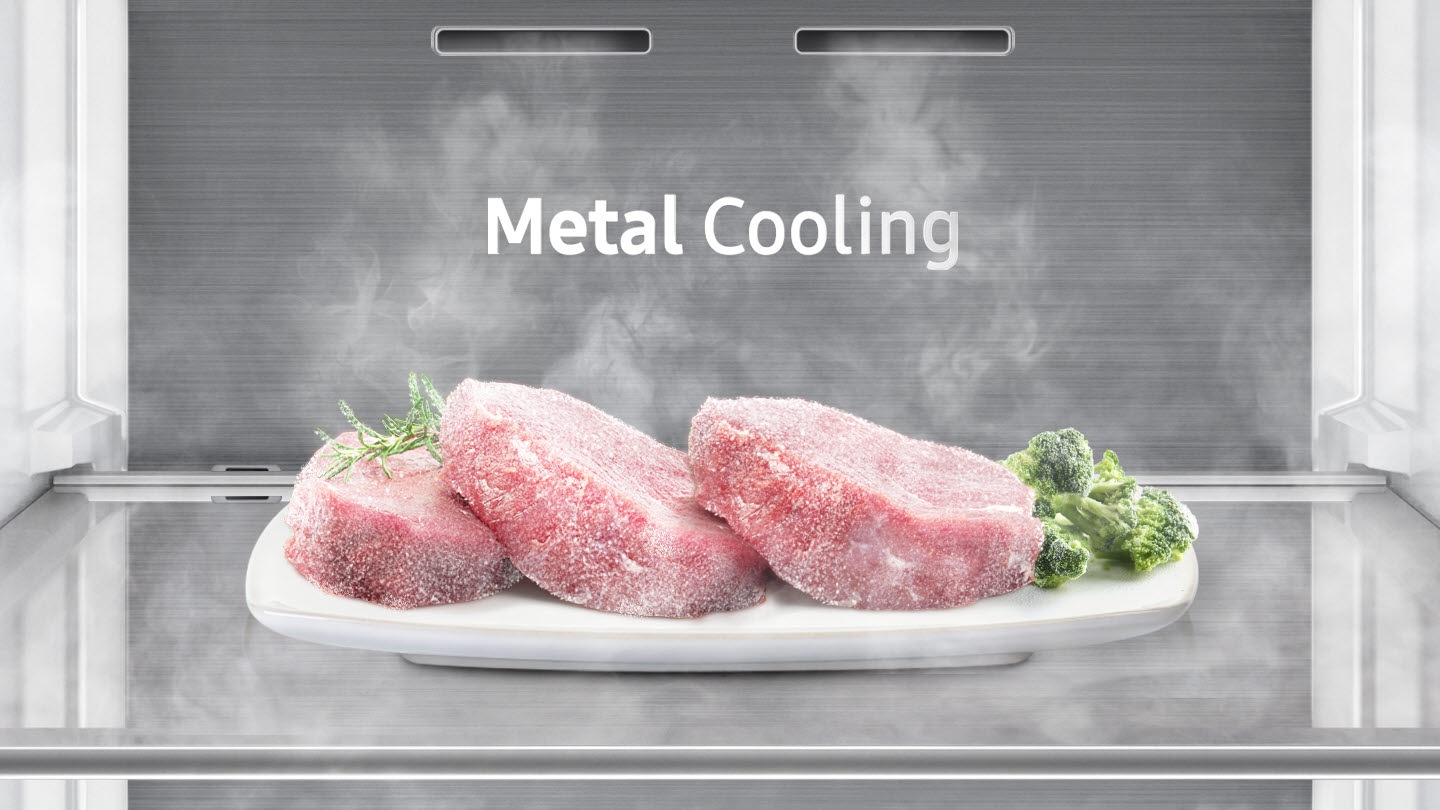 Powerfully fast and intense freezing
Power Freeze
Freeze your food or make ice in a flash! At the touch of a button, the Power Freeze function automatically sets the freezer temperature to the lowest level and creates a rapid blast of intensely cold air. It's great for freezing or firming up frozen food, like ice cream, and making ice quickly.
Clearly see every corner with brighter light
LED Lighting
Find ingredients more easily, and save space and money with LED lighting. It's slimmer, brighter and more energy efficient than conventional lighting. It brilliantly illuminates every corner with a softer, more comfortable light, while creating more storage space and reducing electricity bills.
Metal Cooling feature is applied to specific models.
Plenty of ice, even more freezer space
Slim Ice Maker
Enjoy more freezer space, while still getting enough ice. A Slim Ice Maker is built into the fridge door, so it gives you valuable extra storage by freeing up space in the freezer. But it can still store plenty of ice, and its transparent compartment lets you easily see how much you have left.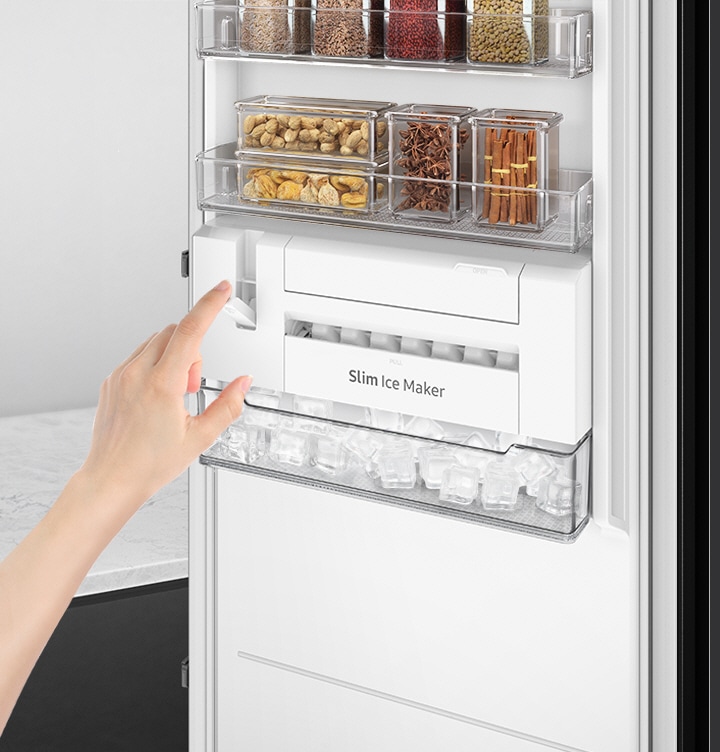 Works longer with optimised performance
Digital Inverter Technology
Enjoy greater durability with a continually optimised performance. The Digital Inverter Compressor adjusts its speed in response to cooling demand. So it's much quieter and is certified to work for 21 years*, backed up by a 10 year warranty**.